We have worked on several road schemes where bats have been an issue and have been involved with producing national guidance documents for bats and roads.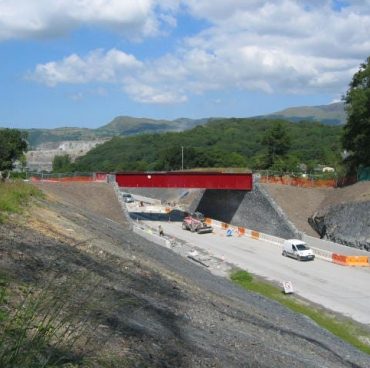 Bat bridge under construction on A487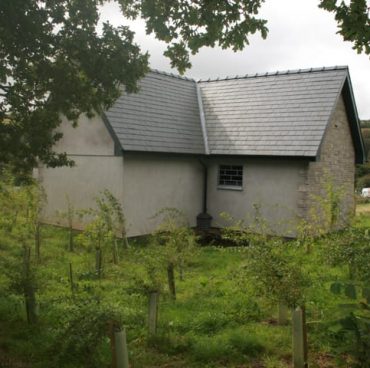 Bat house constructed for A465 HoV2 scheme
We specialise in road improvement schemes that have issues with bats. Richard Green led a research and development project on bats for the Highways Agency, writing the Design Manual for Roads and Bridges (DMRB) Interim Advice Note IAN 116/08 Nature Conservation Advice in Relation to Bats and co-authoring 'A Review of Bat Mitigation in Relation to Highway Severance'.
Richard led the Ecological Impact Assessment and Habitats Regulations Assessment, and was the expert witness for bats at the public inquiry for the Welsh Assembly Government on the A487(T) Porthmadog, Minffordd and Tremadog Bypass scheme in North Wales from 2004-2007, designing mitigation and monitoring for lesser horseshoe bats, including re-aligning the road to reduce impacts on a maternity roost, providing a bat bridge over the road, bat culverts under the road and replacement foraging habitat. The road was opened in October 2011 and post-construction monitoring was undertaken until October 2016, when it was considered that success criteria for the scheme had been met.
Richard Green Ecology has been working for RPS and Costain on the A465 Heads of Valleys Section 2 improvement scheme between Gilwern and Brynmawr in South Wales, as technical bat specialists since 2011. Construction began in January 2015 and is due for completion in 2019. Richard undertook the Ecological and Habitats Regulations Assessment for bats and was the expert witness for bats at the public inquiry. He designed the mitigation and monitoring, including the construction of several new bat roosts, retention and extension of all under-road bat crossings, sensitive lighting, and woodland foraging habitat replacement. Monitoring results, so far, show that lesser horseshoe bats are using replacement roosts and modified under-road crossings, and overall numbers have not been affected by the scheme.
I've worked with Richard for several years and, as well as being an acknowledged bat expert, he is an ecologist with a wide range of experience of other species and habitats and in the preparation of documents. I've always found that Richard responds promptly and efficiently to requests for information and has a positive and pragmatic approach, when helping to resolve often conflicting environmental issues, which is always a benefit to any project.

– Catherine Holland,

HollandBryan Associates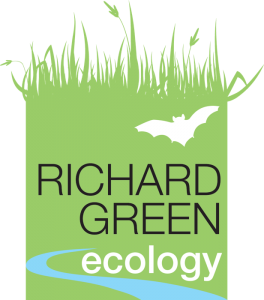 Richard Green Ecology is an established independent consultancy based in Exeter. We are customer focussed and provide expert advice and services to achieve our clients' objectives, whilst complying with planning policy and wildlife legislation.
We take a proportionate and innovative approach to provide cost-effective solutions, following best practice and British Standard BS 42020:2013 Biodiversity – Code of practice for planning and development.
Full CIEEM members and bound by a professional code of conduct.
Highly experienced, multi-disciplinary team of suitably qualified ecologists.
Natural England & Natural Resources Wales licensed and fully insured.
CSCS, Confined Space, Tree Climbing & Aerial Rescue, First Aid trained.