Richard Green Ecology are experts in undertaking extended phase 1 habitat surveys and produce high quality survey plans using GIS and mapping software.
Extended Phase 1 Habitat Survey usually forms the basis of a Preliminary Ecological Appraisal and involves a walkover of the site to identify habitats and plant species, as well as an assessment of the potential for protected and notable species presence, for example, badgers, dormice, bats, nesting birds, reptiles and invasive plants such as Japanese knotweed (please note that this list is not exhaustive).
A desk-based study is also carried out, consulting with local record centres for protected/notable species records and designated sites within close proximity of the site.
Extended Phase 1 Habitat Survey can be carried out at any time of year, although the optimal period for surveying is in the spring or summer months.
Should any protected or notable species be identified or potentially present, further species-specific survey may be required. Some surveys, such as for reptiles and dormice, require several repeat survey visits following placement of artificial refuges on the site. Some surveys are also seasonally constrained, depending on the ecology and activity of the species concerned. It is therefore important that you Contact Us at an early stage in any development.
Please refer to our ecological survey calendar for when surveys can be undertaken.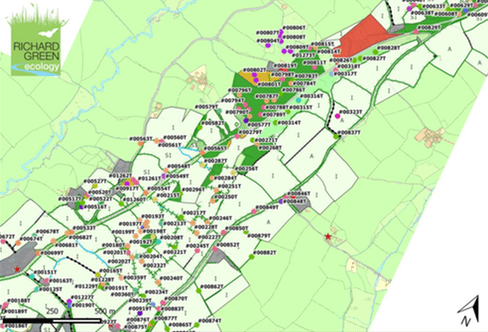 Can be undertaken at any time of year
Establish baseline conditions and determine the importance of ecological features present
Identify key constraints and recommend options to avoid significant ecological impacts at an early stage
Establish any requirements for further surveys, including seasonal constraints
Identify mitigation measures that may be required
Identify enhancement opportunities
I have recently been in close contact with Richard of Richard Green Ecology during some business negotiations. Richard has always made himself available, responded to emails and any queries promptly and he obviously runs his business with efficiency and a…
Katie Lovemore (private client)
We found Richard Green a pleasure to work with. He was extremely proficient in reacting to our urgent request for help with an awkward planning situation where we needed a proactive approach from an ecology expert. Richard provided some very…
Paul Rogers (private client)
I have been working with our environmental business partner this week and I was showing him what we did within the project. I got feedback about your company and your work. He said they were the best eco reports ever…
Katie Butler, NATS (National Air Traffic Services)
Highly recommend Richard Green Ecology Ltd's 2 day QGIS Course. Having no previous GIS experience, I came away able to map like an old hand. Fantastic!
Helen Calver (Phase 1 Ecology)
Thank you very much for forwarding on the survey so quickly, it was very efficient of you. Thanks for a first class service.
As a busy RIBA Chartered Practice we need the support of local professionals who can deliver their work accurately and in a timely fashion.
Paul Fitzhenry (NDM Collins Architects)
(Director) NDM Architects
Richard Green Ecology is our preferred ecological consultancy.
David Shanley (Architect)
David Shanley Architects
I've worked with Richard for several years and, as well as being an acknowledged bat expert, he is an ecologist with a wide range of experience.
Catherine Holland (Holland Bryan Associates)
HollandBryan Associates
We have used Richard Green Ecology to carry out wildlife surveys and offer advice on a number different highway schemes.
Robert Richards (Devon County Council)
Devon County Council
Richard Green Ecology have acted for us on a number of schemes and have provided us with prompt, clear and useful advice on ecological issues.
lestyn John (Bell Cornwell)
Bell Cornwell Chartered Town Planners
We have always found Richard Green to be very quick to respond to queries, coming to site visits and producing reports after a site visit.
Jonathan Rhind (Jonathan Rhind Architects)
Jonathan Rhind Architects