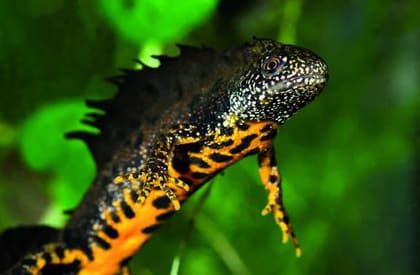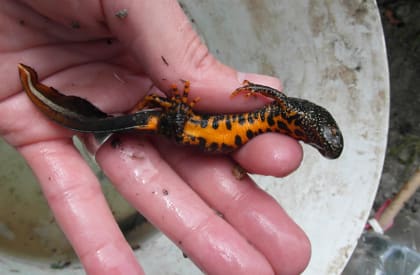 Great crested newts (GCN) are a European protected species. Individual newts, their eggs, and habitats used for breeding and shelter are legally protected.
GCN are found in aquatic and terrestrial habitats including ponds, ditches, rough grassland (including allotments), hedgerows, woodland, scrub, log piles and gardens.
They begin to congregate in breeding ponds from late February, leaving again between May and July. They forage and hibernate in terrestrial habitats, taking refuge in places which are protected from frosts and flooding.
GCN surveys will be needed if:
there are suitable GCN habitats on the site;
distribution and historical records suggest newts may be present; and
there's a pond within 500 metres of the development, even if it only holds water some of the year
An initial survey method for GCN includes assessing the Habitat Suitability Index (HSI) of ponds to measure their suitability to support GCN. If ponds are suitable, further survey is needed between March and June. This may include:
Bottle-trapping – leaving partially submerged bottle traps in ponds overnight, checking for presence of newts the following morning
Egg searching – checking submerged vegetation for GCN eggs. Substitute 'egg strips' can be used if vegetation is lacking in ponds
Torch survey – detecting presence of GCN using torches at night
Hand-netting – capturing newts within ponds to confirm presence
Environmental DNA testing of pond water to detect presence of GCN
Other than DNA testing, which requires only one set of samples to be taken during the survey period, a minimum of four site visits using at least three other recognised survey methods (including at least two visits between mid-April and mid-May) is required to determine the presence/absence of newts in ponds. Six surveys (at least three visits between mid-April and mid-May) are required to make a population size assessment – required for mitigation and licensing. Survey of terrestrial habitat includes pitfall trapping and looking under refugia. Surveys are dependent on weather conditions and timing.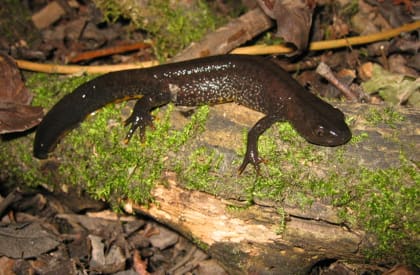 We hold GCN survey licences and can undertake all of the survey techniques
We can react promptly to avoid costly delays, as surveys are seasonally restricted
We are experienced in mitigation design and pond management
I have recently been in close contact with Richard of Richard Green Ecology during some business negotiations. Richard has always made himself available, responded to emails and any queries promptly and he obviously runs his business with efficiency and a…
Katie Lovemore (private client)
We found Richard Green a pleasure to work with. He was extremely proficient in reacting to our urgent request for help with an awkward planning situation where we needed a proactive approach from an ecology expert. Richard provided some very…
Paul Rogers (private client)
I have been working with our environmental business partner this week and I was showing him what we did within the project. I got feedback about your company and your work. He said they were the best eco reports ever…
Katie Butler, NATS (National Air Traffic Services)
Highly recommend Richard Green Ecology Ltd's 2 day QGIS Course. Having no previous GIS experience, I came away able to map like an old hand. Fantastic!
Helen Calver (Phase 1 Ecology)
Thank you very much for forwarding on the survey so quickly, it was very efficient of you. Thanks for a first class service.
As a busy RIBA Chartered Practice we need the support of local professionals who can deliver their work accurately and in a timely fashion.
Paul Fitzhenry (NDM Collins Architects)
(Director) NDM Architects
Richard Green Ecology is our preferred ecological consultancy.
David Shanley (Architect)
David Shanley Architects
I've worked with Richard for several years and, as well as being an acknowledged bat expert, he is an ecologist with a wide range of experience.
Catherine Holland (Holland Bryan Associates)
HollandBryan Associates
We have used Richard Green Ecology to carry out wildlife surveys and offer advice on a number different highway schemes.
Robert Richards (Devon County Council)
Devon County Council
Richard Green Ecology have acted for us on a number of schemes and have provided us with prompt, clear and useful advice on ecological issues.
lestyn John (Bell Cornwell)
Bell Cornwell Chartered Town Planners
We have always found Richard Green to be very quick to respond to queries, coming to site visits and producing reports after a site visit.
Jonathan Rhind (Jonathan Rhind Architects)
Jonathan Rhind Architects