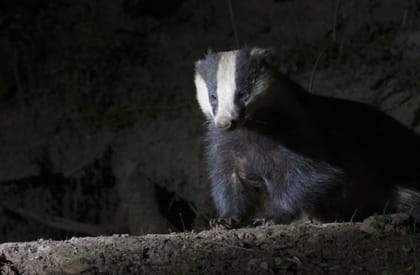 Badgers live underground in a network of tunnels and chambers called a 'sett'. Badger setts vary from single-entrance occasionally used "outliers" to complex main setts with multiple entrances. Whilst a widespread and common species in Britain, badgers and their setts are protected under the Protection of Badgers Act (1992). This means that badgers are a consideration when planning and designing developments. They may also cause damage to property by undermining when excavating their setts.
We include a survey of badger setts and signs in our Preliminary Ecological Appraisal, which is often sufficient to make an impact assessment on badgers. Occasionally, it is necessary to carry out further surveys to determine levels and patterns of sett use and determine the extent of badger territories.
Further survey to determine the use of setts by badgers can include fixing sticks at sett entrances to see if they are moved by badgers and monitoring by nocturnal observation and using trail cameras. Bait-marking surveys involve feeding the badgers bait containing harmless coloured plastic beads and mapping out their territories by finding the beads in their dung latrines.
Where main setts have to be destroyed, either to facilitate development or to prevent damage to property, a replacement artificial sett is usually required. Richard is a Registered User of Badger Class Licence CL32, allowing us to undertake sett closure and destruction of setts for the purposes of development and preventing serious damage. We are experienced in sett exclusion, destruction and live digging of setts under licence and have designed and built replacement badger setts.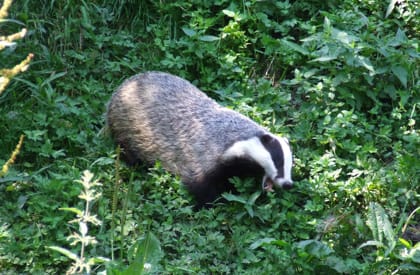 We have a successful track record of obtaining badger licences for development and to prevent damage
If badgers are present, we will advise on timing and design to avoid the need for a licence where possible
We can use Badger Class Licence CL32 to undertake sett closure and destruction of setts for the purposes of development and preventing serious damage
I have recently been in close contact with Richard of Richard Green Ecology during some business negotiations. Richard has always made himself available, responded to emails and any queries promptly and he obviously runs his business with efficiency and a…
Katie Lovemore (private client)
We found Richard Green a pleasure to work with. He was extremely proficient in reacting to our urgent request for help with an awkward planning situation where we needed a proactive approach from an ecology expert. Richard provided some very…
Paul Rogers (private client)
I have been working with our environmental business partner this week and I was showing him what we did within the project. I got feedback about your company and your work. He said they were the best eco reports ever…
Katie Butler, NATS (National Air Traffic Services)
Highly recommend Richard Green Ecology Ltd's 2 day QGIS Course. Having no previous GIS experience, I came away able to map like an old hand. Fantastic!
Helen Calver (Phase 1 Ecology)
Thank you very much for forwarding on the survey so quickly, it was very efficient of you. Thanks for a first class service.
As a busy RIBA Chartered Practice we need the support of local professionals who can deliver their work accurately and in a timely fashion.
Paul Fitzhenry (NDM Collins Architects)
(Director) NDM Architects
Richard Green Ecology is our preferred ecological consultancy.
David Shanley (Architect)
David Shanley Architects
I've worked with Richard for several years and, as well as being an acknowledged bat expert, he is an ecologist with a wide range of experience.
Catherine Holland (Holland Bryan Associates)
HollandBryan Associates
We have used Richard Green Ecology to carry out wildlife surveys and offer advice on a number different highway schemes.
Robert Richards (Devon County Council)
Devon County Council
Richard Green Ecology have acted for us on a number of schemes and have provided us with prompt, clear and useful advice on ecological issues.
lestyn John (Bell Cornwell)
Bell Cornwell Chartered Town Planners
We have always found Richard Green to be very quick to respond to queries, coming to site visits and producing reports after a site visit.
Jonathan Rhind (Jonathan Rhind Architects)
Jonathan Rhind Architects