Production and implementation of an Adder Mitigation Strategy for improvement works on the A38 in Devon.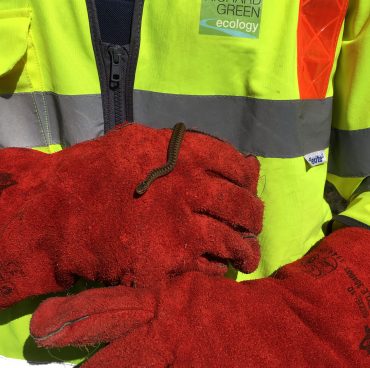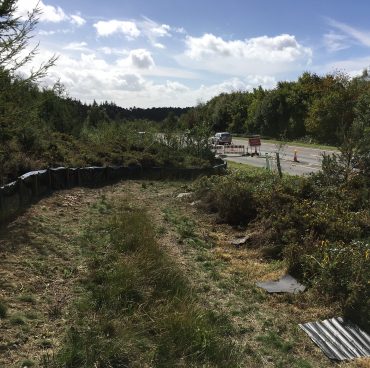 Reptile fencing and capture refugia
Surveys identified a small population of adders in the verge of the A38 on Haldon Hill, between Exeter and Plymouth, where improvement works are planned. We produced an Adder Mitigation Strategy, which aims to maintain the long-term conservation status of adder in the area by:
including measures to avoiding killing and injury of adders;
creation of alternative adder habitat and a hibernaculum;
provision of long-term management of habitats for adder; and
monitoring to assess the success of the mitigation.
Adjacent gorse-dominated habitat was enhanced by creating sheltered basking areas, habitat piles and a buried hibernaculum. Reptile fencing was installed to segregate the working area and retained habitats, followed by capture and translocation of adders, slow worms and common lizards. Two adult adders (one male and one female) and one juvenile were successfully moved to the new hibernaculum prior to undertaking a staged removal of vegetation from the working area. This involved initially brush-cutting the area to a height of approx. 100mm (to reduce the risk of killing/injuring any reptiles), followed by a second cut to leave vegetation as short as possible, so that any reptiles that had not been caught would be encouraged to leave the area. A week later, the vegetation was stripped under ecological supervision, using a toothed bucket to firstly carefully rake through the vegetation (in case any reptiles were still present) and then to strip the vegetation in readiness for the proposed improvement works.
Once the work has been completed, the area will be restored to heathland and the reptile fencing removed, allowing adders and other reptiles to recolonise the area.
We have undertaken reptile surveys and mitigation on projects in Barnstaple, Bath, Bodmin, Bridgwater, Bristol, Falmouth, Exeter, Hayle, Holsworthy, Launceston, Okehampton, Minehead, Newquay, Newton Abbot, Plymouth, South Molton, Taunton, Tiverton, Truro, Wareham, Weston-super-Mare, Yeovil, and many other locations in the south west.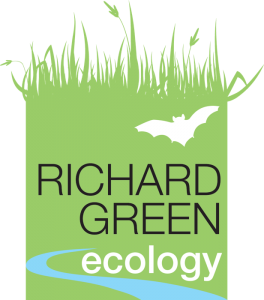 Richard Green Ecology is an established independent consultancy based in Exeter. We are customer focussed and provide expert advice and services to achieve our clients' objectives, whilst complying with planning policy and wildlife legislation.
We take a proportionate and innovative approach to provide cost-effective solutions, following best practice and British Standard BS 42020:2013 Biodiversity – Code of practice for planning and development.
Full CIEEM members and bound by a professional code of conduct.
Highly experienced, multi-disciplinary team of suitably qualified ecologists.
Natural England & Natural Resources Wales licensed and fully insured.
CSCS, Confined Space, Tree Climbing & Aerial Rescue, First Aid trained.